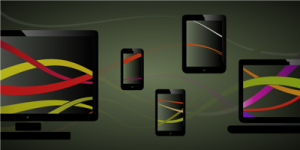 It has become virtually impossible to shy away from having an online presence in order to promote your business and connect with customers. Furthermore, an increasing number of individuals are using smartphones worldwide for communicating, learning, and purchasing. To operate online, your team needs to have a killer mobile site to convert smartphone browsers into buyers. We're going to cover why your site needs to be mobile friendly in 2017, and how you can ensure its seamless for phone users to navigate.
More people than ever before are using smartphones:
In Canada alone, smartphone ownership increased from 2013 to 2014 from 62% to 66% as shown by the CRTC. For more recent statistics provided by Statista, the number of smartphone users worldwide is forecasted to be 2.32 billion worldwide and is expected to rise to 2.87 billion by 2020. Providing viewers and customers with a mobile-friendly version that lets them do virtually anything from the palm of their hands can bring in a lot of happy customers.
Improve mobile site = Improve Revenue
In the mobile shopping space, spontaneity and convenience remain the biggest factors for success. MoPowered found 30% of mobile shoppers cancel a transaction if the experience is not optimized for mobile. As Google states spontaneity plays a role in 81% of smartphone purchases, running into unintuitive pages can cause customers to leave in an instant. Creating a mobile page that is seamless and easy to navigate will make that much of a difference between you and your competitor.
Okay, so how can I tell if my site is mobile-friendly then?
With that in mind, you might be wondering as how to know whether your site is mobile-friendly or not. What actually makes a site mobile friendly?
1. Loads quickly
For starters, it's best to ensure that your site will load quickly if viewed from a smartphone. Strangeloop Networks found 57% of mobile customers will leave a site if they have to wait for at least 3 seconds for it to load. Fast loading times are one of the keystones of a successful website, and mobile-friendly sites are no exception.
2. Proper resolution for screen size
Ensuring proper resolutions for your mobile site is important given all the different brands and models of smartphones offered nowadays. As found by Mobify R&D that no one screen size controls 20% of the market share, guaranteeing your site can adjust resolution accordingly via responsive web design (RWD) will make sure to keep all of your customers satisfied. Try loading your site on a variety of screens, phones, tablets and display modes to ensure your bases are covered.
3. Easy navigation on small screens
With today's user, everyone wants a convenient smartphone that fits both their needs and their pockets. That means more small screens, and more chubby fingers fumbling to click on the right link. Although there is an increasing amount of people using smartphones, 75% of US adults in 2015 still used a computer versus a smartphone to perform purchases according to Business Insider. With checkouts on smartphones being difficult enough as is, having a small screen with a site that's difficult to use can deter one from performing a transaction even further.
4. No pinching or zooming of content or images
Eliminating one more step for your customer can make or break the sale. Making your website RWD-compatible will not only make it easier for your customers to use your site, but will also rank your site higher in Google search results (to be discussed below). Having to zoom in and out of content is one of the most bothersome things users come across on websites, so the less, the better.
5. Is accepted by Google as a mobile website
Being accepted and recognized by Google as a mobile website goes a long way, the more mobile-friendly your mobile site is, the higher it will appear in Google results. Google is well aware the amount of smartphone users online today, so ensuring their navigation process is seamless is their priority as well. Make sure to check if your website is accepted by Google as a mobile website.
If your site checks out for all of the above, then you've already started off on a good note. If not, don't worry, there's still time. Taking the steps listed above will lead you towards a more mobile-friendly site that will generate you more traffic, revenue, and loyal customers.