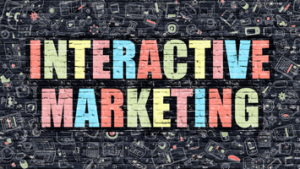 Traditionally online marketing has been a one-way conversation that advertises a product or service. Because of its one-way nature, this type of adverting does not work well in today's new marketplace. Now your customers want a say about the services and products they support and buy. Folks online do not want to be sold or persuaded to buy something; they want to contribute to the success of these products and services they buy. They want a voice.
Interactive marketing offers your customers the freedom to express their feelings so marketers can produce more relevant marketing messages. This type of marketing starts a two-way dialogue between a business and its customers. If this dialog is done a continual basis, this creates a dynamic that supports customers rather than leading them. This keeps everything friendly and conversational.
How does interactive marketing help?
When your customers provide feedback they also provide valuable information such as demographic location, ideas on products and services, testimonials, and reasons why they like something or not. This information is invaluable as a business owner. This back and forth conversation also helps you build a community. The closer you feel to your community, the closer they will be to you. Online trust is huge these days so it's good to set time to work on posts that can bring everyone together.
Many people initially discover a business through their website or blog. Now we can be all over the internet. The biggest apps used for consumer awareness are Facebook, Twitter, Instagram, Snapchat, and Pinterest. So lets take a look at how can you connect to your customer on a personal level on each of these platforms.
1. Facebook:
The old way to advertise on Facebook was through ads. Now we can tell a story using quick messages, pictures, and videos directly on our Facebook business pages. Effective storytelling has the ability to deepen a consumer's emotional connection by reminding them why they love what you sell. A consumer is more likely to like, comment, or share a post if it reinforces their personal feelings about why they choice to invest in it. Marketing to your customers on Facebook allows you to identify key emotional triggers that inspire loyalty. But wait, there's more – Facebook Live is the latest technology that is proving to work well by reaching out to your audience in real time. Definitely worth trying.
2. Twitter:
Twitter is one of the most popular platforms on this list because it's one of the easiest ways to create a personal connection with your audience. Strategies to increase engagement include using continual Hashtags, retweeting relevant topics, and by retweeting relevant posts about your company to your audience. Twitter is an endless worldwide conversation where a company has the opportunity to jump into the daily conversation of millions of customers. Give consumers a reason to follow along by offering regular promotions, photos, tips, useful articles and free resources. The concept here is continual engagement. Don't forget to jump onboard the trending topics to help promote your tweets.
3. Instagram:
This image-based app is popular because it's easy to use. You can get very creative with this app by sharing products, promotions, and services. Like Twitter, hashtags help push posts to be seen easier. Focus on trending hashtags such as #fridayfeeling, #mondaymotivation and #igers. Another thing Instagram offers is the stories option. This works similar to Snapchat because it is not a permanent post. This can be used as a quick video or just an image that can add text to with the sound on or off.
4. Snapchat:
This app allows you to get up close and personal with your audience. It's this personal connection that gets all the attention. You can be as down to earth as you want by showing off your real-world marketing skills. Keep in mind though these posts are temporary. What you post has a time limit so make sure to set aside a Snapchat idea list of things to continually post about.
5. Pinterest:
The boards you set up on Pinterest can focus on an array of things such as products, the ways to use your products, seasonal items, DIY, tips, and things you love. Another nice feature is that you can repin posts your audience has linked to your company. Pinterest is a great place to showcase what inspires you and if it inspires you, it will inspire your audience too.
Additionally, you can use many other apps to help connect with your audience such as, Hyperlaspe, Boomerang, and Periscope. These apps allow you to make quick or long videos. This helps add variety to your social media pages instead of always relying on photos. And lastly, don't forget about memes! Yes, we love memes and if you don't believe me; ask any kid. You can create memes easily with added text. Best to keep them professional and always add in humor. If you can make them laugh, you will win them over!
We know it isn't enough to simply provide resources for consumers. It is equally important to give them a way to actively participate in the conversation by engaging their own social networks. Encourage your audience to repost your information. Let your audience know that you support the idea that sharing is caring!