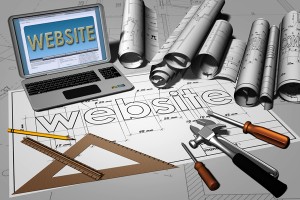 If you're website has been sporting the same design for years, it's time to think about updating your look. You wouldn't wear the same suit for five years in a row, and your website shouldn't have to, either. Read on to find out about three benefits of redesigning your website.
1. Switch to a Content Management System.
When was the last time you updated your website's content? Keeping your website updated frequently is key for attracting customers and search engines alike. A CMS (Content Management System) such as WordPress can make that process a whole lot easier. A CMS separates your content from your design, and that means that you can easily make content updates yourself without worrying about breaking your stylish new design. Being able to make updates yourself means you're likely to update your site more frequently, keeping it fresh and interesting for new and existing customers alike. Think you don't have anything new to say? Think again. There are all kinds of ways to update your content. You can:
announce new products or services
discuss industry news that might affect your customers
list upcoming events
talk about your company's community involvement
advertise sales and specials
present a portfolio of the fabulous work you've done recently
Using a CMS also makes it much simpler for future site redesigns – your content stays the same, you just add a new design when you're ready for a new look. If you're looking at a site redesign, it's a great time to consider switching to a Content Management System.
2. Get a Responsive Design.
More and more people are using phones and tablets to browse the web. But not all websites look good or work well on smaller devices. It can be downright frustrating to have to scroll, pinch and zoom to find the link you're looking for, only to end up tapping on some other link because everything is so small, or to find that the information you're looking for is not available on the mobile site and you have to go to the full version of the site anyway (which looks super tiny on your phone!).
This is where Responsive Design comes in. A responsive design is one that adapts to whatever size of screen it's viewed on, for example by reflowing the content and adding a mobile friendly navigation. A site that has three columns side by side on your desktop might have 2 columns on your tablet or three columns stacked vertically on your phone. All of the content is still there — but rearranged so that the most important information is immediately accessible. A responsive design works on any device or screen size and lets your customers view and use your site on a phone, tablet, laptop or desktop computer. Unlike a separate mobile site that may lack functionality, a responsive design gives all your customers a beautiful, fully functional website. And it's not device-dependent, so no need to worry when new devices are released.
3. Social Media Integration.
There's no denying that social media like Facebook, Twitter, Pinterest, etc, is changing the way companies interact with their customers and the way customers expect companies to interact with them. If you haven't integrated your social media presence with your website, a site redesign is the time to add it. You can add a Twitter feed or or pull in your Facebook posts, and add buttons so customers can follow you on social media. Maybe you want to include your latest Instagram photos or Pinterest pins. You can also add social sharing buttons, so customers can easily share your content on their social media – on Facebook, Pinterest, Tumblr and more. If you're having a new website design made, why not go the extra mile and get new graphics made for your social media sites. Having new buttons and banners made that match your design will cost a little more, but then end result — a professional, co-ordinated web and social media presence — is so worth it. Setting up social media still on your to do list? Even if you're not active on social media, social sharing buttons let your customers do your advertising for you. What's not to like?
Giving your website a redesign may seem like a daunting task, but the benefits we've talked about make it all worthwhile. In addition to a spiffy new design, you can incorporate a content management system, responsive layout and social media integration to give your site the edge over your competition and keep your customers coming back for more.