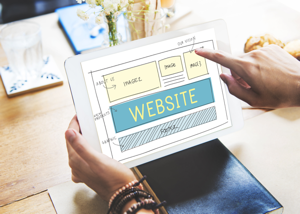 They say your website has 5 to 10 seconds to make a good impression. To keep that impression going, it's important to have a visually attractive home page featuring great content. Your home page is where you create the most impact on your audience. Remember, if you are redesigning the look of your page, to make sure it is tidy and organized. If you try to add too much information, it can appear cluttered and distracting. Here are some ideas and features you can add to your homepage:
1. Brand your site
This may seem to be a "no-brainer" but you would be surprised at how many business (especially new ones) do not have either a logo or a word mark! If you already have a company logo make sure to incorporate that on your webpage. It's one of the best ways to create your recognizable brand. And, if you do not have one, we suggest you get one made – pronto!
2. Great visuals
The top of your home page will be the focal point of your page so why not add a well-shot photo or a custom illustration. A good visual punch may be the wow factor that get's your potential customer's attention and draws them into your site.
Placement and sizes for images vary depending on the look you are going for, but items you could consider include:
a rectangular banner
a full image
an image off to the side
an image in the middle of the page
3. Animated sliders
Looped animated sliders or carousels can be a good way to showcase important images, highlight important services, sections, pages, products, categories, special offers, or success stories. This feature allows you to play a bit with your content.
4. A video
If you create youtube videos for showcasing products and to discuss ideas then make sure to promote them on your webpage. Videos are both insightful and give your audience an introduction to your company while adding a personal touch. Best to keep these videos short and sweet though – ideally no longer than 5 minutes.
5. Blog posts or articles
Add a blog post feed with written articles that you update regularly. Use articles as another way to connect to your audience while sharing product information, services, news, and tips.
6. Your social media feeds
We all have to be sociable online so why not feature your twitter, Instagram or Pinterest feeds. It helps potential customers find your business on platforms where they spend a lot of time. Make sure this section is off to the side and kept tidy.
7. Contact information
Make your contact information easily found. Include your email, store location, and social media links on each page of your website, not just your contact page.
8. Promotions or catalogs to download
We all love promotions, sales and discount codes so make sure these are promoted well so your customers can find them. If you have a seasonal catalog, set up a link that showcases a pdf version.
9. A newsletter sign up box
Newsletters are invaluable. They are the best way to keep your customers in the loop with sales, news and more. Avoid distracting pop-ups because this tends to be perceived as pushy. Try setting up a friendly sign up form on your webpage that encourages your audience to join.
10. And most importantly, keep your website mobile friendly
A happy website is a responsive website that works well on all devices from your laptop, iPad, and your trusty phone. Customers are able to access it where ever they are, and with whatever device they have access to at the time. Make it easy for them to read and purchase from your website.
For more web page design ideas, contact us today!