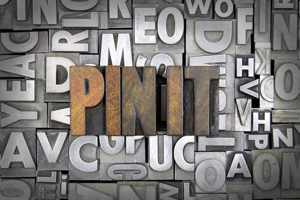 If you're considering starting a Pinterest page there are some tips you should follow to help you get started. Pinterest is a bookmarking web page that helps you discover and save creative ideas. Think of it as a really organized online bulletin board. Pinterest helps users find all kinds of ideas, tips, DIY information, tutorials, product information and more that they can refer to whenever they want. That's why so many businesses and retailers are using this more and more to help with their internet marketing efforts.
Reasons to have a Pinterest page:
There are over 100 million users. 

Your pins last forever so they have a longer online life.

Two-thirds of the content saved to Pinterest comes from businesses. 

Many people shop on Pinterest so this influences purchases.

The more interesting your post the more it drives significant referral traffic.

Pinterest informs you of emerging trends.

67% of Pinners consult Pins on their mobile devices while shopping in stores, making it important for retailers to add high quality, impactful Pins.
Here's how to get started:
1. Join Pinterest as a Business.
Follow the instructions found at this link: https://business.pinterest.com/en
2. Create a professional Pinterest page name
Try to use your business name if it's available or a version of it so it's easily found and recognizable. Keep in mind that it's important to keep all your social media branding consistent.
3. Create boards
Setting up boards on Pinterest is your way to organize certain themes you wish to focus on. With each board, you can pin items that focus on themes such as products, favorite tips, latest trends, latest styles, upcoming seasons, holidays and infographics. Take this time to strategize your boards and your pins for your business. Whenever possible, include relevant keywords you want to be found for as early as possible in the description of your board and pins.
4. Make sure your boards and pins are found
Don't just use your business name, add some keywords about your business that will help you to be found. If you own a sewing shop, add your name and the terms "sewing", "hemming", "creative fabric work", "alterations" for example. By doing this, you will have a higher chance of being found for the services you provide.
5. Be consistent
Space your pins apart from one another while pinning many times per day. If you plan on adding 20 pins daily try to space them out manually or you can schedule your pins by using specialized apps or social media services to help. Don't bite off more than your schedule can chew – it's better to be consistent than to pin large volumes at once and then go dark.
6. Don't forget to repin
Not all your followers will catch what you pin daily so make it a habit to repin great visuals often. Another reason to repin often is because you get busy! Repinning allows you to keep up with your consistent posting routine while getting your content in front of more followers.
7. Follow relevant pages
Just like we recommend following relevant pages on Facebook, Twitter, and LinkedIn, we also need to connect and interact with key influencers in your industry and community on Pinterest too. A simple 'follow' and 'comment' will go a long way to get your business noticed by the right influencers and other Pinners that follow them.
Now start pinning! And if you have any more questions about how to make Pinterest work for you, give us a call!