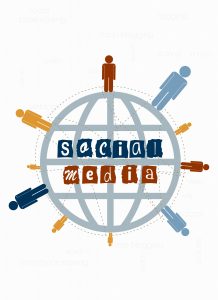 It's true, we all love a good story. That's why we should be taking advantage of this tried and true approach to your social media marketing. Advertising does not work the same way as it once did. Now our audience wants to feel connected to the brands and companies they support. From an audience's perspective, they want honest, down-to-earth communication that they can relate to. From a marketer's perspective, this means understanding that we're moving towards a pull versus push approach. We need to pull them in with relatable content while gently pushing our ideas and services. It's a delicate balance. We can no longer push our messages in a direct in-your-face way anymore.
Story telling is one of the quickest ways to get your customers' attention because it's simple, familiar and conversational. Telling our audience that our products are great is not enough. People need proof and they need to know why your coffee is the best in town or your t-shirts are the most creative.
Storytelling may seem simple but from any marketers perspective, it's a challenge that involves trying out methods to see what works. There is no definitive manual on this because every company, product, and service are different, so are the all the personalities that come with it. A good rule of thumb when it comes to storytelling online: keep it neutral, keep it real, and keep it positive. Avoid politics, hot topics, religion and anything that might be seen as offensive. Be open but not too open. Make sure you are comfortable with what you are posting.
To help you get started on the right foot, try some of these ideas to get the story going:
1. Show how human you are
What people really want is to connect with other people – that's why it's called social media. It's hard to connect to slogans, big ads and other forms of marketing. Your brand, however, is flexible and can show what you and your company are all about. Talk about your beginnings or the reason you came up with the name of your company.
2. Create a Facebook photo album
In this album you can spotlight specific things such as products, events, behind-the-scenes, and other images that showcase your company. Keep it organized and make sure the pictures flow well with one another to create a consistent style.
3. Share stories in the stories section
Instagram and Facebook offer a temporary story section that can be used to advertise latest products, new work or an office shots. These are fun and relateable and it doesn't alter your page's look so you can be as creative as you want to be here.
4. Go live on Facebook
Add a live event to your feed if you're working on something, speaking live or demonstrating something. It's a great way to bring your audience in while including them in what you are doing.
5. Show behind-the-scenes of your work place
It's fun to see what goes on when companies are sifting through new inventory or how messy someone's desk is. We all love the process of things and work in progress pictures.
6. Posting parts of a blog article
You can tell a story by adding a longer body of text that coincides with a great visual. This content can be written specifically for that image or it can advertise a blog article you've written. Every piece of content you post, no matter how simple or small, is a way to reinforce a story you're communicating.
7. Video or boomerang
Showcasing yourself or products with a video is a great way to connect with your audience. Instead of a blog post, create a video instead. Showcase your latest products and how to use them or make an announcement of new services or a new member of your team.
8. Create your own memes or gifs
Visuals that make you laugh are great way to entertain your audience. For instance, if you are a coffee shop, you can focus on Monday and the need for more than one coffee to get the day started.
9. Use the same hashtags
Don't forget to use relevant hashtags on all your posts. Using consistent hashtags helps your audience find you. This also encourages your audience to use some hashtags that you created for your business. Also, don't forget about trending hashtags such as #throwbackthursday and #mondaymotivation.
10. Utilize YouTube
Creat a YouTube channel spotlighting those those videos you created. Start a series or a theme and add it to your social media and newsletters.
11. Podcasts
If you're not comfortable being in front of the camera, then try a podcast. You can talk about your industry, products. latest trends and also invite speakers to talk with you on on a regular basis.
As you can see there are many ways to connect with your audience. Make sure you're comfortable with it and have fun. When you enjoy it, your audience will too. For more tips on social media marketing, contact us today!