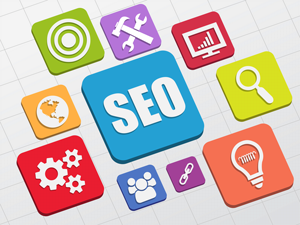 The language of SEO is an important skill for online business owners to have. Not only does it help you understand Search Engine Optimization a little more, but it will help you discover where you can improve your business website's SEO efforts.
Here are 9 SEO terms every business owner should know:
SEM or Search Engine Marketing (or Search Marketing) is an umbrella term for all marketing efforts – paid and unpaid – done to gain traffic and visibility via search engines.

SEM is divided into two main types: SEO and PPC.
SEO stands for Search Engine Optimization and it is the practice of optimizing websites to make their pages appear in the organic search results.
 PPC stands for Pay-Per-Click and it is the practice of purchasing clicks from search engines. The clicks come from sponsored listings in the search results.

SERP stands for Search Engine Results Page. A SERP is what is displayed to you after you type a search query into Google or another Search Engine. SERP is a coined SEO term that you'll hear frequently as you want your business website to show up on the SERP for your chosen keywords.
A Keyword is a word or set of words that exemplify the brand, its services, or products. Keywords are important because they help users and the search engines better identify what your web pages are all about. Using keywords in your title tags, headlines and throughout your content helps to give the search engines focus on the important information you wish to convey. Use keywords moderately and where apropriate because if they are overused, it can actually hurt your rankings.
Meta Tags are used to give search engines information regarding the content of your pages. Meta tags are placed inside the HEAD section of your HTML code. They are not visible to human visitors but play an important role on your page for being ranked on Search Engines.
The Title Tag is the title of a single web page and it's one of the most important factors inside Google's search algorithm. Your title tag should be unique and contain the main keywords of your page. You can see the title tag of any web page displayed at the top of the browser while navigating the site.
Indexing: Search engines are constantly processing, collecting and storing data from across the web. These search engines are scouring the web for updated and new pages to add to their massive databases of information. When the search engines do find new pages, they 'index' it by adding a copy of it to their database, so that they can retrieve it to display on a SERP when you do searches.
Backlinks (also called an "inlink" or simply a "link")

 are simply hyperlinks on other websites pointing back to your own website. This link leads viewers back to your page affecting how much traffic you get. 

The more backlinks you have pointing back to your site, the more popular it will be. 

Backlinks are important for SEO because they affect directly the PageRank of any web page, influencing its search rankings. Think of a PageRank is Google's way to measure the importance of a page online. It's a type of popularity of contest based on all sorts of calculations which makes having backlinks (using your selected keywords as anchor text) very important link to have.

 

The Anchor text of a backlink is the text that is clickable on the web page. Having keyword rich anchor text will help with SEO because Google associates these keywords with the content of your website. If you have a photography blog, for instance, it would help your search rankings if some of your backlinks had "photo shoot" or "wedding photos" included in a backlink's anchor text.
301 redirect: When you delete webpages or change URLs, they don't just disappear into the digital universe. When users try to search for a URL that no longer exists, they receive a 404 error, or a 'Not Found' page. To avoid confusing users – and to pass on any ranking authority from retired pages – it's a good idea to use a 301 redirect. This 301 redirect sends users and search engines looking for the old URL to another active page that you specify.