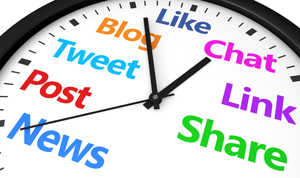 These days, it isn't enough to have a website, a Facebook page, and a twitter account. If you want to make your time online more effective then you need a plan. By hiring a social media manager to help you with your online marketing, you are setting up a better sharing system. This system includes images, information, articles, quotes, reposts, and updates. The more information you have to play with the more variety your team can post. The ultimate goals of social media are to drive more traffic to your website, which in turn increases your customer base and increase sales.
Unfortunatly many of us are so busy running our business that we often forget to post online. Hiring a social media manager to help with your online life can ensure that your social media pages do not go stagnant and be a huge business asset. Here is how outsourcing your social media can help:
1. Social Media Managers can help you develop a strategy for your business
To build a business, you need a game plan. This plan is part of your marketing that helps you build a foundation. Similar to setting up a business plan, you can also set up a plan for posting online. A social media expert can pinpoint the best ways to post about your business while helping you target the right audience.
2. Social Media Managers can help create compelling content for your business
Your hired help can brainstorm with you to come up with compelling content that reflects your business goals and appeals to your potential and past customers. By creating a constant flow of content, it helps build consistency, it helps you plan time-sensitive content, schedule upcoming events, news, and articles.
3. Social Media Managers can provide analytic reports
Ever wonder how well your content is doing online? If you're not sure, an expert can help. They can give you the big picture of who your audience is, peak times that your posts are performing well, and give you an indication as to what is working well and what needs improvement.
4. Social Media Managers can save you time
It takes a lot of time to consistently post online; and trying to keep up with it could result in you never getting any of your other work done! By hiring help, they can focus on what they do best so you can focus on what you do best. Outsourcing your social media means they'll post on your behalf. No time wasted.
5. Social Media Managers can pinpoint where you need the most help
If your problem is that you're not achieving your goals, ask yourself how you can ensure that you do. Brainstorm with your Social Media Manager as to why this is the case, and create strategic options that would increase your online reach. When hiring someone to help you with your social media, they are helping you find an online voice. Some adjustments and changes can make all the difference to help drive more traffic to your sites.
6. Social Media Managers can help get your brand seen
Your online brand is so important. Your content should focus on your business, your customers, and your values. This creates loyalty and community. If you love what you do and love your product and services then your marketing team can utilize that. If you are selling lighting then you are selling more than ambiance. You are also selling a lifestyle, comfort, and home accents. All of this improves your customers lives. Look at how some of the big companies like Starbucks have created a comfy coffee loving sharing community. Learn from them and be inspired. Your social media team can help you expand your brand by helping you find your voice and creating an online community.
All of these are good steps to a better business and is definitely money well spent. Ask us how we can help you with your social media.